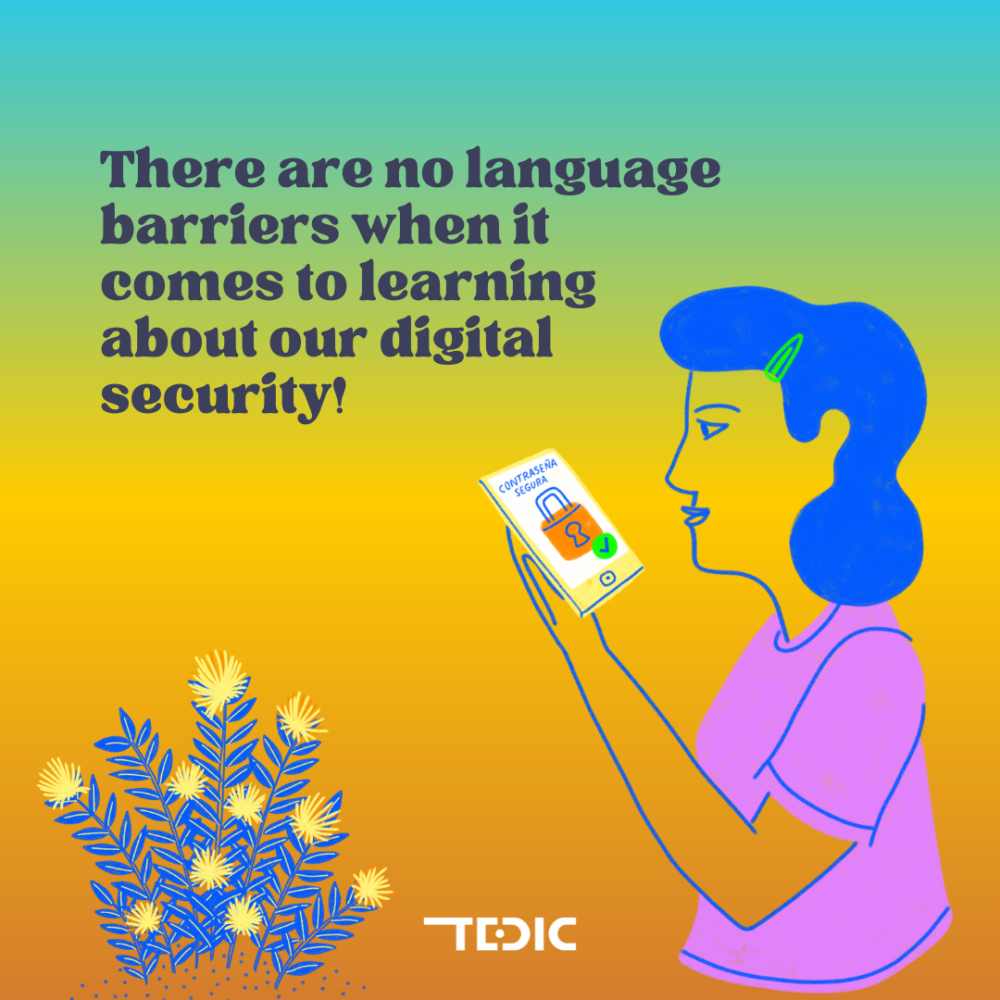 In an increasingly digitalized world, digital security and literacy are essential. However, the language barrier can be a significant obstacle. Through our extensive experience working on digital security issues in various communities, we identified the need to develop educational resources for security and digital literacy in the native language of the communities we work with, to ensure that the information is accessible and understandable.
The work we have been doing with TEDIC, alongside the organizations with which we are collaborating, is a standout example of collective and horizontal cooperation, always prioritizing the needs of the communities from a collaborative approach that ensures that the content developed is relevant and useful to those it is intended for.
Moreover, we always consider that adapting the formats of a digital security course to the particularities of the communities is vital. In the case of digital security videos in Guaraní, the community we were working with did not have good access to the Internet, leading to the development of short and dynamic digital security capsules. These capsules can be sent via WhatsApp, allowing effective and accessible distribution to a greater number of people.
Identified Topics and Resources in Guaraní
The educational resources were co-developed among the involved organizations, identifying the following topics:
Use of password managers.
Configuration of social networks such as Facebook and WhatsApp.
Aspects of cybersecurity like phishing, online scams, digital banking, and digital security with a feminist perspective.
All the resources of the basic digital security guide were developed in Guaraní, with Spanish subtitles.
Video 1 – Basic Security for Your Cell Phone
What would happen if you lose your cell phone or someone steals your WhatsApp account? In this first video, we give some tips to improve digital security, using some type of lock on the mobile device.
We recommend choosing a password with numbers, as they are generally more secure; for this, it is essential to always remember the chosen combination.
In the case of losing or having the cell phone stolen, a password ensures the protection of all the information stored on the phone, from contacts to chat privacy.
Video 2 – Passwords
This video aims to discuss the importance of protecting our information with passwords through a comparison with our everyday life. We talk about the importance of strong passwords and how to create and store them.
Video 3 – Bitwarden
In this video, we explain step by step how to download and use the Bitwarden password manager, a free and secure option to store all our passwords.
Video 4 – WhatsApp Security: Information We Share
In this video, we talk about some privacy settings that help keep our information secure in this app. Moreover, we explain the importance of restricting the basic data we put in the app, as malicious individuals can capture this information and use it to deceive others.
In this video, we talk about how to prevent your WhatsApp account from being stolen. By taking precautions and using a security pin or two-factor authentication, it is possible to limit other people's access to your personal account.
Video 6 – Facebook Security
In this video, we discuss how we can use Facebook's privacy assistant to check our account's security. With the help of this assistant, we can improve the strength of a password, install a second authentication factor, and add alerts when something in your account is not going well.
Video 7 – Phishing
Deceptive messages are becoming more common and frequent on the Internet. In this video, we talk about how to identify malicious messages and avoid falling for scams.
Video 8 – Phishing
In this video, we show how links are composed to identify real ones from those that work for scams.
Video 9 – Banking Apps
In this video, we talk about the security of our banking applications and how to identify real messages from those with an intent to scam.